SENDING FORTH THE WORD
Are you looking for good, sound Bible study materials that only use the King James Version of the Bible? Then you should take a look at our FREE, Correspondence Discipleship Ministry.
SENDING FORTH THE WORD is a free, progressive, correspondence discipleship program. We currently have over 1,000 active students throughout the United States and in several foreign countries. At Forest Area Baptist Church we utilize this program to reach the unsaved and as an aid for newly converted Christians to become better acquainted with God's Word.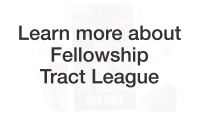 Forest Area Baptist Church is a partner ministry with the FELLOWSHIP TRACT LEAGUE in Lebanon, Ohio. Fellowship Tract League is the world's largest producer of gospel tract literature, which they provide free of charge, as the Lord provides. The Fellowship Tract League receives many tracts each week indicating that someone has received Christ by reading their gospel tracts. They then share those contacts with us at Forest Area Baptist Church and we utilize the Sending Forth the Word lessons in the follow-up discipleship for each contact.
The first series of lessons are called "Finding Direction in God's Word." It consists of ten two-page lessons. The answers are simply filling in the blanks of various Bible verses. The lessons cover the basic Bible doctrines and are titled Salvation, Eternal Security, Baptism, the Word of God, the Church, Communion, Prayer, Witnessing, Tithing, and Separation. The lessons are designed primarily for new converts, or young Christians, but focus on ensuring that by the final lesson, each participant has truly trusted Christ as their personal Saviour.
The second series of lessons are called "Bible Basics." These nine study lessons are designed to be more in depth and challenging. They are entitled, The Bible, Facts About God, God the Father, God the Son, God the Holy Spirit, Satan, Creation, Sin, and the Way Back to God.
The third series of lessons are called "New Life Series." It has eight lessons covering topics entitled, The Security of the Believer, Holiness of the Believer, Living a Christ-like Example, The Heavens, and Coming Events.
If a student successfully completes all three sets of lessons and desires to continue, we also offer them more advanced Bible study materials. They are entitled The A,B,C's of Christian Growth and The A,B,C's of Christian Maturity. Once a student completes an entire series of lessons we issue them a Certificate of Completion for each of the five series.
These Bible study lessons are perfect for prison ministries, nursing homes, new converts, Sunday school, personal discipleship and growth, or even group Bible studies. The program can be utilized in many different ways.
If you would like to begin receiving these free Bible study lessons, or for more information, please contact us by filling out our Lesson Request Form.
Sending Forth The Word is a non-profit, local church ministry that operates solely on love offerings and donations made by churches, individuals and students who have been blessed and encouraged by the work that God has called us to do. All of our lessons are free of charge. For some items we do ask for a small donation to help us with the cost of postage. Most importantly we ask that you would simply pray for us, that God Almighty will supply our needs from His abundant supply.
Please send all correspondence for SENDING FORTH THE WORD to:
SENDING FORTH THE WORD MINISTRIES, PO BOX 13, MARIENVILLE, PA 16239